UPDATE 5th November 2011
Welcome to the web site of
The Austin Healey Club North Wales.
A Sub Centre of the Austin Healey Club Northern Centre.
This page has been set up to inform Healey enthusiasts of the activities of our North Wales members and friends.
Our sub centre is equally dedicated to Sprites and Big Healey's.
News and events will be up dated regularly to allow you to find out what we are doing and to encourage you to join us.
We have an extensive photo gallery for you to enjoy .
Meeting are held on the 3rd. Thursday of every month at 8pm.
at
The Cricket Club, Smithy Lane, Northop Hall, Flintshire.
Northop Hall Village is Just off the A55 near Ewloe.
We attend classic car social and sporting events and some of our members have been successful in competition.
We have experience of most models of Austin Healey from the Sprite to the 3000 and are always pleased to see visitors from other clubs or centres.
---
A BRIEF HISTORY OF OUR SUB CENTRE.
The Sub centre was formed during the winter of 1978 and The Cricket Club at Northop Hall village was chosen as our meeting place. We have enjoyed the hospitality of the cricket club for 33years and appreciate their support.
Our first Welsh Ramble took place in 1979 and the first Welsh Weekend in September 1979. We are proud to tell you that this event has been fully booked every year since.
Our sub centre thrived through the eighties with 50 members attending almost every club meeting and we were able to be involved with assisting and supporting many National events. Welsh Weekend grew to be a major event with over sixty cars driving in convoy. However the recession of the nineties hit the classic car scene and we lost a few of our members, some of our young people married and moved out of North Wales further reducing the membership. However several of the original members have returned and we have seen an increase of new members during the last year so have an enthusiastic and active sub centre group. We are particulary proud of our hill climb champions, John Richards, big Healey, John Newton Sprite.
Many of our original members continue to attend our monthly meetings and between us have a vast experience of Austin Healey's Large or small so are able to offer help and advice to less experienced owners.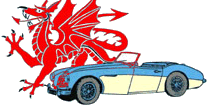 Free counters provided by Andale.
North Wales Subcentre wish to thank Nigal Blain for building this web site and for his advice and help.

© Idris images and character are Copyright of its Creator and Austin Healey North Wales